January 24, 2018
Winter Farm update
You would think that January would be super slow around the farm. Turns out, we're actually doing a ton around here. Here's a list of what's going on as we gear up for the growing season, which will be upon us before we know it!
Egg Sales
While they have slowed down quite a bit, our laying flock is still pumping out dozens of delicious and nutritious eggs every day. Send us a private message or give us a call if you would like to come pick up some! As a celebration of the launch of this website, we're offering dozens at five for $24 or ten for $48 for a limited time. Share the gift of farm-fresh pastured eggs with your family, neighbors, co-workers, or friends and receive a discount!
I have also finally ordered some labels so that we can sell our eggs in stores. There are a few requirements dictated by the state about what labels for eggs must display. Here's what we're going with for now. We might have to make some updates later if a store that wants to carry our eggs requires a UPC code. Anyway, I have a thousand of these on the way!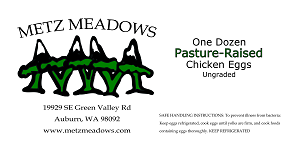 Stay tuned for an exciting announcement about an additional option for buying our eggs.
More Chicken Coops…
I have also started the process of building a coop for another one of our flocks. I like to keep the birds in flocks of around 50, and each group requires it's own coop setup. My dad gave me a utility trailer a while back but it's not quite up to the task: the wheels aren't heavy-duty enough and the floor isn't quite large enough to house that many birds and maintain a reasonable amount of floor space for each bird (even though they spend all day outside anyway). I've ordered some tougher, bigger wheels and tires and am working on the design for raising and expanding the floor. I'll likely be working on this inside as I don't want the rain to derail progress! Stay tuned for pics! This coop will be for the Easter Eggers (have you tried the beautiful blue eggs yet?). It will be good to get them away from the house as they are all over the place. Once the growing season starts, a guy can't have birds roaming wherever they like, digging up plants and eating the future harvest.
Further Garden Expansion
This coming spring, we'll be creating some greenhouse space for tomatoes. I'll be re-purposing the three original chicken tractors I built. They are nearing the end of their usable lives as chicken coops and will be reincarnated as a high tunnel greenhouse for tomatoes and peppers. Also, while the coops were still fully functioning, I let the chickens till and fertilize a good section of new garden plot. That section has been covered all rainy season and will get a good shaping and initial tilling in preparation for planting. After the first season, it will remain a no-till system.